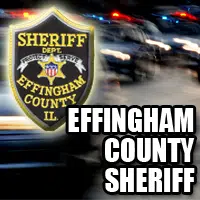 Two men were injured seriously enough in an apparent altercation to be sent to Carle Hospital in Urbana Monday evening in Shumway, according to a report from the Effingham County Sheriff's Office.
On Monday, at approximately 11:56 p.m. Sheriff's Deputies were dispatched to an a residence in the 300 block of Beecher Street in Shumway to respond to report of a fight between two men. Upon arrival, deputies found 48-year-old Jeffery Klein, of Shumway, severely injured. He was transported to Carle Hospital in Urbana for treatment. Another man involved in the fight, 37-year-old Christopher Mahnke, of Cowden, was later arrested by the Shelbyville Police Department and was also transported to Carle Hospital for treatment. Upon Mahnke's release, he was taken into custody on an Illinois Department of Corrections Warrant for Parole Violation.
According to the Effingham County Sheriff's Office, the investigation into the incident is ongoing.