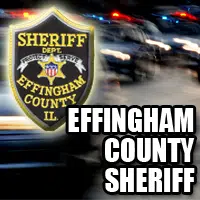 In the midst of recent rash of vehicle burglaries, Effingham County Sheriff Dave Mahon is warning residents against leaving valuables in unattended cars. This in the wake of a Glock 9mm handgun, and other items, including a Microsoft Tablet, being stolen Tuesday night from the Richmond Hills Subdivision, southeast of Heartville. Sheriff Mahon stresses that you should never leave an firearm in an unoccupied vehicle.
The stolen firearm has been recorded with the Law Enforcement Agency Data System in the case that it is recovered. Sheriff Mahon also reminds responsible gun owners to ensure that their firearms are properly documented, serial numbers recorded, and kept in a safe place.
Anyone with information on this crime should contact the Effingham County Sheriff's Office at 217-342-2101, or Effingham Area Crimestoppers at 217-347-6583.