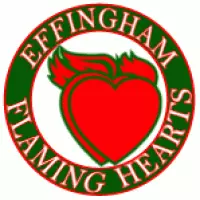 Effingham was dominate on both sides of the football in the 27-7 win against Charleston. Effingham didn't allow a score until 5.3 seconds left in the game.
Effingham had a clear strategy from the beginning, that being to give Hill the ball and it worked to perfection. Hill had 12 carries on the first drive scoring from the 1 yard line to make it 7-0 with 7:45 left in the first quarter.
Hill continued to look good. Effingham was facing a first and twenty from the Charleston 40 yard line. Hill got the run and gained about 10 yards, but rolled through the tackle never letting his knee hit the ground and kept going for the touchdown to make it 13-0.
Effingham came out in the third quarter with a Morrissey interception return for a 61 yard touchdown making it 19-0 just 1:03 into the third quarter.
Morrissey grabbed his second interception of the half with just more than five minutes to play. The following drive went nine plays and ended with Hill's third touchdown, a one-yard dive into the end zone to make it 27-0 with 1:59 in the third.
Tony Gilbert scored from three yards out with 5.3 seconds to play for Charleston's only touchdown of the game.
Effingham moves to 2-2 and 1-0 in the Apollo Conference. The Hearts hit the road next Friday to face Salem.
Effingham statistics
Passing: Vasquez (3-6, 17 yards, 0 TD, 1 INT); L. Wolfe (0-6, 0 yards, 0 TD, 1 INT)
Rushing: Hill (33-241-3); McCabe (3-16-0); L .Wolfe (2-(-1)-0); P. Smith (2-2-0); Marschewski (6-32-0); Thilker (5-17-0)
Receiving: Bushur (1-10-0); H. Smith (1-5-0); Hill (1-2-0)