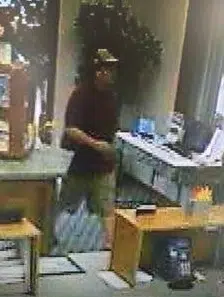 At approximately 2:33 PM on Wednesday Charleston Police responded to an alleged, armed bank robbery at Prairie State Bank on 18th Street in Charleston.
The suspect is described as a Caucasian male, about 5 feet 6 inches, wearing a dark maroon or black, short-sleeve shirt, khaki shorts, prescription glasses, and a NASCAR Hat with the number 88 on it. The suspect also is reported to have a scabbed-over cut on his right forearm. He is armed with what appeared to be a silver colored revolver.
He fled the scene on foot in the direction of EIU's campus on Garfield from 18th Street.
Charleston Police are still seeking the suspect. If you have any information on the incident contact the Charleston Police Department via Facebook or call Coles County Crimestoppers at 866-345-8488.