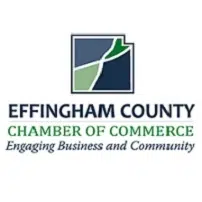 State Senator Kyle McCarter, who represents the local 51st District and Congressman John Shimkus, who represents the local 15th District, recently responded to a questionnaire from the Effingham Chamber of Commerce. Senator McCarter is challenging Congressman Shimkus for the position of Congressman of the 15th District, with the two facing off in the March 15th Primary Election on the Republican ticket.
The questionnaire, seen below, asked the incumbent Shimkus and challenger McCarter about their accomplishments in office and what their goals are for the 15th District. Candidate responses are presented as they were answered without any alteration.
U.S. HOUSE OF REPRESENTATIVES – 15th DISTRICT
CANDIDATE QUESTIONNAIRE
What is one piece of legislation you have authored and that has been enacted that had the greatest impact on your constituents?
McCarter: The Synthetic Drug Bill passed last year became law Jan 1, 2016. This is the toughest law in the United States, putting synthetic drug manufacturing predators on notice that they can no longer marginally alter the formula of synthetic drugs and continue selling them to our young people. Lives will be saved and self-serving criminal killers will be imprisoned. I am encouraging every state to pass the same law.
Shimkus: I am going to quickly highlight two issues in the areas of agriculture and safety.
My first bill signed into law changed how alternative fuels credits were given to fleet owners. Buying a bus or truck that used biodiesel was enough to earn you the credit…you didn't have to buy a single gallon of biodiesel. My bill changed that to actual fuel purchases. Since then I have been a leading advocate for renewable fuels (biodiesel and ethanol).
Another bill that I introduced became law designating 9-1-1 as the emergency number for cell phones.  Prior to that you may have had to call *55 or some other number for a cell phone to connect to emergency responders. Since then I have been involved in expanding 9-1-1 coverage in buildings with multiple line systems and other 9-1-1 issues.
What are the three biggest impacts you have had as an elected official, beyond legislative activity?
McCarter: 1. I have been able to use my experience and knowledge of business to fight for issues like Worker's Compensation Reform, Unemployment Insurance Reform and less taxes and regulations.
2. I am proving that by keeping my business going while in the senate and term limiting myself that citizens can be legislators. This is what our founding fathers intended.
3. Voting my conscience and not being controlled by special interest, yet successfully being reelected three times.
Shimkus: Probably the biggest impact is the ability to assist constituents who are grappling with the federal bureaucracy. Having four constituent service offices throughout the district, including one in Effingham, allows my staff to assist hundreds of constituents throughout the district. My staff assists our constituents with any governmental issue they are struggling with, whether it be a tax refund, Medicare bill, or getting their passport in time for a trip. For me, assisting my constituents with the federal bureaucracy is the most important part of being an elected official.
Second, as a member of the Energy & Commerce Committee, I get the opportunity to ask questions of the Secretary of Energy, Administrator of the EPA, and other Administration officials. I get to hold their feet to the fire about rules they are proposing that are harmful to my constituents. A perfect example of this is when my questioning got former Secretary of Health and Human Services Sebelius to admit that they were double counting $500 billion as both a savings to Medicare and to fund Obamacare.
Finally, I would say that I get to bring a humble, Midwestern approach to governing to Washington, DC. Remember that while we are from smaller cities, New York and Chicago also send their representatives to DC, and I try to make them understand that a simple, conservative approach might actually help their constituents too.
What are the three biggest opportunities you see for the 15th District that you can impact?
McCarter:
1. I can increase job opportunities for the people including connecting coal-mining operations with oversea purchases of coal; putting coal miners back to work.
2. I will call for a forensic audit of the VA uncovering millions of dollars of waste fraud and abuse that will pay for excellent local healthcare for our veterans. They should not have to wait 2-3 weeks and drive 2-3 hours to get healthcare. They should be able to go to their nearest hospital or physician, and go to the front of the line.
3. I will negotiate for less regulations and the reversal of executive orders and EPA rules that have killed jobs in IL with as much energy as I do in my own business. Job opportunities grow our communities.
Shimkus: In Washington, I'll have the opportunity to serve as chairman of the House Energy and Commerce Committee in the next Congress. That would put me at the table with all discussions related to national energy policy, telecommunications, health care, trade, consumer protection, and many other areas that directly impact the people of the 15th Congressional District.  Having that kind of direct impact is extremely hard to earn in Congress.
Here in Illinois, I believe that I would be able to provide the best service to constituents in need of breaking through the bureaucratic red tape that I talked about earlier.
And finally, I have great relationships with elected officials at other levels of government that allow us to work as a team, while my opponent has burned those bridges.  Governor Rauner has endorsed my candidacy.  Nearly every state legislator and many mayors across the district have endorsed my re-election. I bring that ability to work together for the betterment of the 15th District.