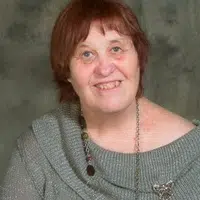 Susan K. Pruemer, 64 of Teutopolis, passed away Sunday evening, March 4, 2018, at Willowbrook of Effingham.
A Mass of Christian Burial will be held at 10:30 a.m. Friday, March 9, 2018, at St. Francis of Assisi Catholic Church in Teutopolis with burial in St. Francis Cemetery. Visitation will be held from 4:00 p.m. to 7:00 p.m. Thursday evening at Bauer Funeral Home in Teutopolis with a 6:30 p.m. parish prayer service. Memorial donations may be made to (A.R.C.) Community Support Systems. 
Susan was born January 1, 1954, in Teutopolis, the daughter of David R. and Esther (McClory) Pruemer. She was a long time member of St. Francis of Assisi Catholic Church in Teutopolis. 
Susan is survived by her siblings, Mike (Tena) of Effingham, Ron (Michelle) of Shobonier, Bob (Brenda) of Teutopolis, Larry (Shanta) of Teutopolis, Karen Bales of Effingham, Mark (Julie) of Teutopolis, Bruce of Teutopolis, Keith (Tamara) of Effingham and Kevin (Lisa) of Dieterich; 22 nieces and nephews; 13 great nieces and nephews. 
Susan was preceded in death by her parents and infant sister, Nancy.