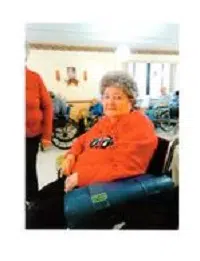 Bonnie Jean Hall, 85,  of Kinmundy departed this life on February 9, 2018, at 11:25 am, at Twin Willows Nursing Home in Salem surrounded by her loving family.
Bonnie Jean was born December 8, 1932, to Eva (Perry) and William Hawkey. Bonnie attended school in the Mason and Edgewood area. She was united in marriage to Roy E. Hall on June 13, 1948. He preceded her in death on May 18, 2003.
Bonnie Jean was a homemaker and loved to cook for her family and friends. She was a wife, mother and good friend to many. Bonnie's life was dedicated to her family and raising her children and grandchildren. She also spent many years volunteering with the Salvation Army in Centralia.
She is survived by daughters, Deborah Jones of Kinmundy, Sharon Jean Hall and Berk Cunningham of Centralia, Ronda Lynn Hall of Centralia; brother, William "Bill" (Judy) Hawkey of Kinmundy, brother-in-law, Herbert Hall of Salem; sisters-in-law, Leona Tutt of Kinmundy, Helen Nash of Flora, Pat Hawkey of Kinmundy; grandchildren, Holly (Tim) (Greenlee) McKibben, Greg (Wendy) Jones, Jared Jones, Bartley Roy Hall, Jace Hall, Nathan Stewart; great grandchildren, Joshua and Jennifer Weems, Hayleigh, Avery, Kinley and Grady Jones, Nathan (Tierre) Stewart and Tyson Stewart, and many nieces and nephews.
She is preceded in death by her parents, husband, brothers, Robert and Mike Hawkey, sisters, Colleen Butts, Ellen Gesell, and Eunice Krutsinger.
Arrangements are entrusted to Neal Funeral Home of Kinmundy where the family will receive friends from 10:00 am to 11:00 am, Tuesday, February 13, 2018. A funeral service will be held at 11:00 am at the funeral home on Tuesday following the visitation. Interment will be held at Evergreen Cemetery.
Memorials may be made to the Neighborhood Food Pantry of Kinmundy and will be received at the funeral home.