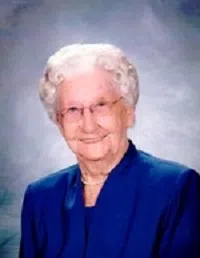 Hazel M. Stanley, age 98, formerly of Ingraham, passed away at 7:55 pm, February 1, 2018 at Heartland Christian Village in Neoga, IL.
Hazel was born Thursday, May 15, 1919 in Clay County, IL to Nathan Addison Williams and Mamie M. (Kinsey) Williams. She married Nelson Stanley on January 24, 1947 in Morganfield, KY. He preceded her in death on January 15, 1999.
During Hazel's working years, she was employed at the International Shoe Company, a secretary at Four Sisters Manufacturing and was a beautician in her home. She enjoyed helping out at the farm and showing cattle at the fairs. She was a member of the Clay County Home Extension, a 4-H leader, and a member of the Ingraham Christian Church. She enjoyed fishing, quilting, collecting bells and picking four leaf clovers.
She is survived by son, Roger (Debra) Stanley of Effingham; daughter, Shirley (Ron) Payne of Louisville; grandchildren, Matt (Cindy) Payne of Tigard, OR, Becky Payne of Louisville, Abbey (Chad) Brenneman of Wentzville, MO, Jessica (Matthew) Asselmeier of Plano, IL, Jonathan (Emily) Stanley of Highland, IL, Jared (Carmen) Stanley of Cisne, IL; great-grandchildren, Kyle, Ally, Cassidy, Joel, Marissa, Trey, Autumn, Aubriana, Dalli and Cyrus.
Hazel is preceded in death by her parents, husband, son, Jack Nelson Stanley; sisters, Dorothy Hinman and Pauline Keith.
Arrangements are entrusted to J.W. Neal Funeral Home of Louisville, where the family will receive friends from 6:00 pm to 8:00 pm, Monday, February 5, 2018. A celebration of life will be held Tuesday, February 6, 2018 at 10:00 am at the funeral home. Interment will be held at Ingraham Cemetery, Ingraham, IL.