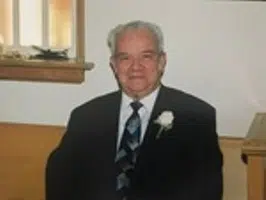 Arthur "Neal" Kenley, age 84 of Clay City, IL, passed away at 5:35 am, on Saturday, January 13, 2018, at Flora Gardens Care Center in Flora, IL.
Neal was born Wednesday, July 26, 1933, in Clay County, IL, the son of the late William Kenley and the late Leona (Rosborough) Kenley. On June 14, 1953, he was united in marriage to Mary Hanselman in Cincinnati, OH.
He was self-employed as a farmer and as a minister where he preached at many area churches.
Neal is survived by his wife Mary Kenley of Clay City; daughter, Susan (Rick) Batchelor of Shattuc, IL; brother, William (Marilyn) Clyde Kenley of Lakeland, FL; grandchildren, Brandon Kenley Batchelor, Amy Rose Batchelor, David Lee Batchelor all of Seattle, WA, Tenneal Marie Kenley of San Diego, CA.; great-grandchild Wesley Beechum of San Diego, CA.
He was preceded in death by sons, Steven Dale Kenley and Philip Arthur Kenley.
Arrangements are entrusted to J.W. Neal Funeral Home of Louisville, where the family will receive friends from 5:00 pm to 8:00 pm, Thursday, January 18, 2018. A funeral service will be held at 12:00 pm, Friday at Bethlehem Christian Church in Clay City, IL. Interment will be in Smith Cemetery, Clay City, IL.
Memorial contributions may be sent to Oil Belt Christian Service Camp, Bethlehem Christian Church or Sailor Springs Historic Foundation and will be received at the funeral home.