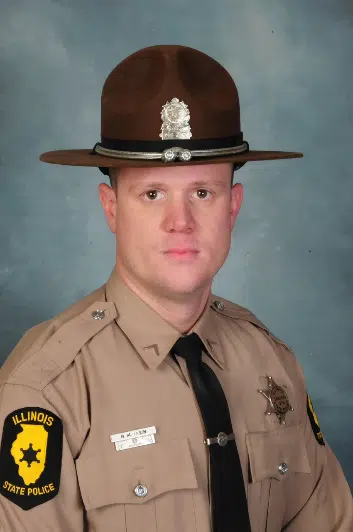 The Illinois State Police is mourning the loss of a fellow trooper.
On Wednesday, State Police K-9 Trooper Ryan Albin was involved in a vehicle accident on I-74 in Farmer City. Trooper Albin was airlifted to a local hospital and his canine partner, Biko, was taken to a local veterinarian office. Biko suffered only minor injuries. Trooper Albin succumbed to his injuries at approximately 8:45pm on Wednesday. Trooper Albin has been with the Illinois State Police since January 2006.
Illinois State Police Director, Leo Schmitz stated, "Our hearts are heavy with grief as we mourn the loss of Trooper Albin. I extend my deepest sympathy to Trooper Albin's family, friends, and co-workers. I pray that those who cared for and loved him find the strength they need during this most difficult time. No further words can express the pain and loss we are all feeling."
The accident remains under investigation.
(Photo courtesy of the Illinois State Police)