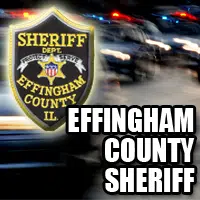 The Effingham County Sheriff's Department has recovered a vehicle that was stolen from a residence near Dieterich.
According to Effingham County Sheriff, David Mahon, the Sheriff's Department received a report of a stolen vehicle on Sunday, June 25th at 7:10am. The vehicle that was stolen was a 2006 Grey/Blue Ford Taurus from a residence on East 100th Avenue in Dieterich. He stated that the keys had been left in the vehicle. Sheriff Mahon then stated that at 10:49am on Sunday, the Department discovered the vehicle abandoned near 925th Avenue and Funkhouser Road in a wooded/brush area. Tri-Power towed the vehicle and the Sheriff's Department is processing the vehicle to determine who may have stole it.
Sheriff Mahon believes the vehicle was stolen during the night on Saturday. The investigation is on going.